Poggenpohl provides fresh perspectives with the motto Spotting New Dimensions. The current collection is a clear statement for the future and celebrates a modern take on opulence. Exceptional pieces thrive based on a solid foundation of craftsmanship, aesthetics, and precision. The context consists of a systemic approach defined through a methodical combination of design and function; materials and colours.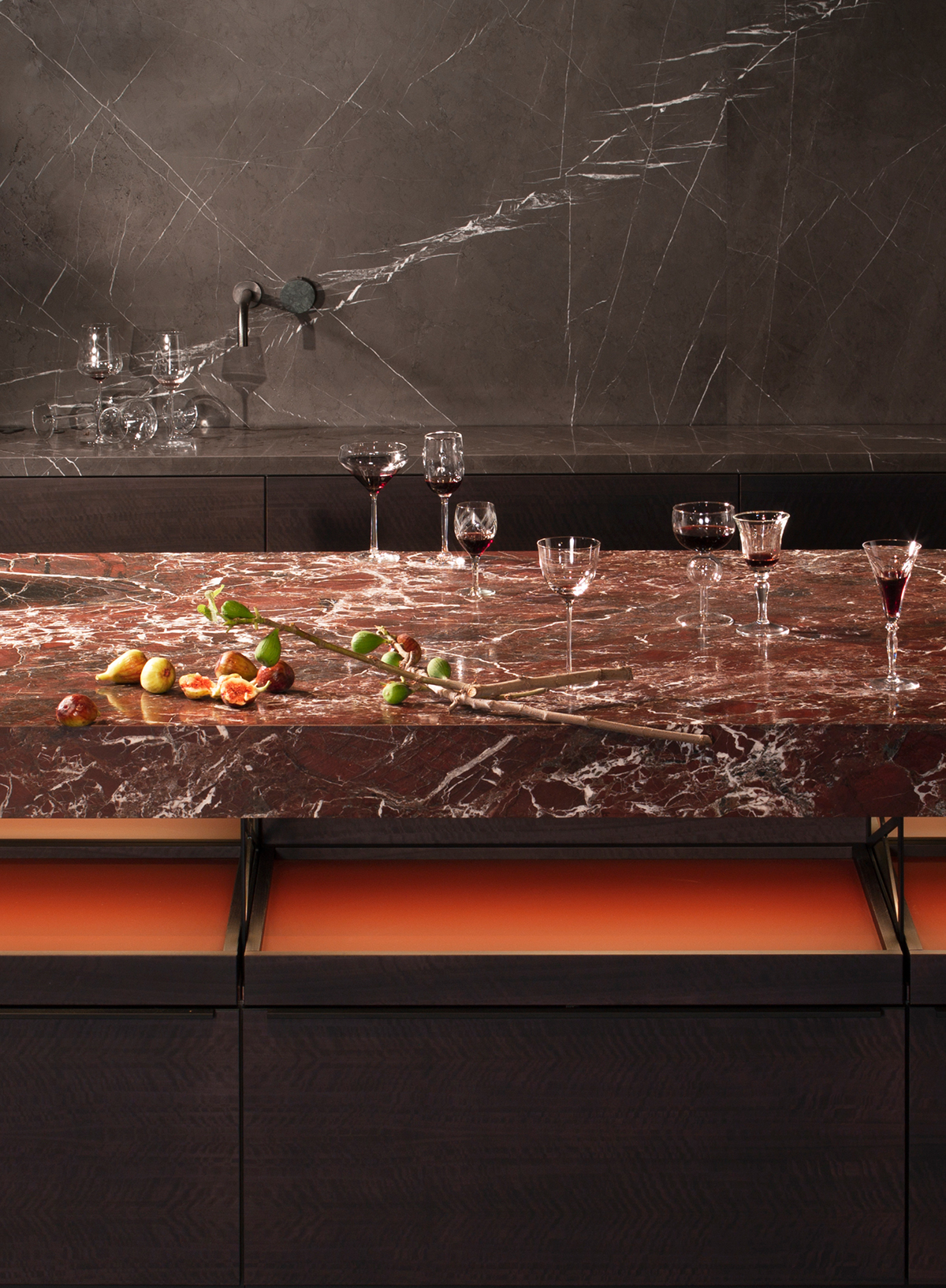 Splendor of Elements
Nature is unique, exuberant in its diversity and grandeur. The worktop made of Rosso Lepanto evokes associations of Roman worlds and pleasurable living. As if floating, it rests on the +MODO base cabinets in eucalyptus wood. The sophisticated interplay of colour underscores the exceptional quality of the composition.
Green Alchemy
Colour creates emotional energy. Green is hopeful and optimistic. In a sophisticated palette of colour akin to that of a chameleon, +VENOVO sets an example for natural diversity and variability in the realm of flora.
The matte green, slightly shimmering surfaces of the fronts and metallic details create a natural atmosphere.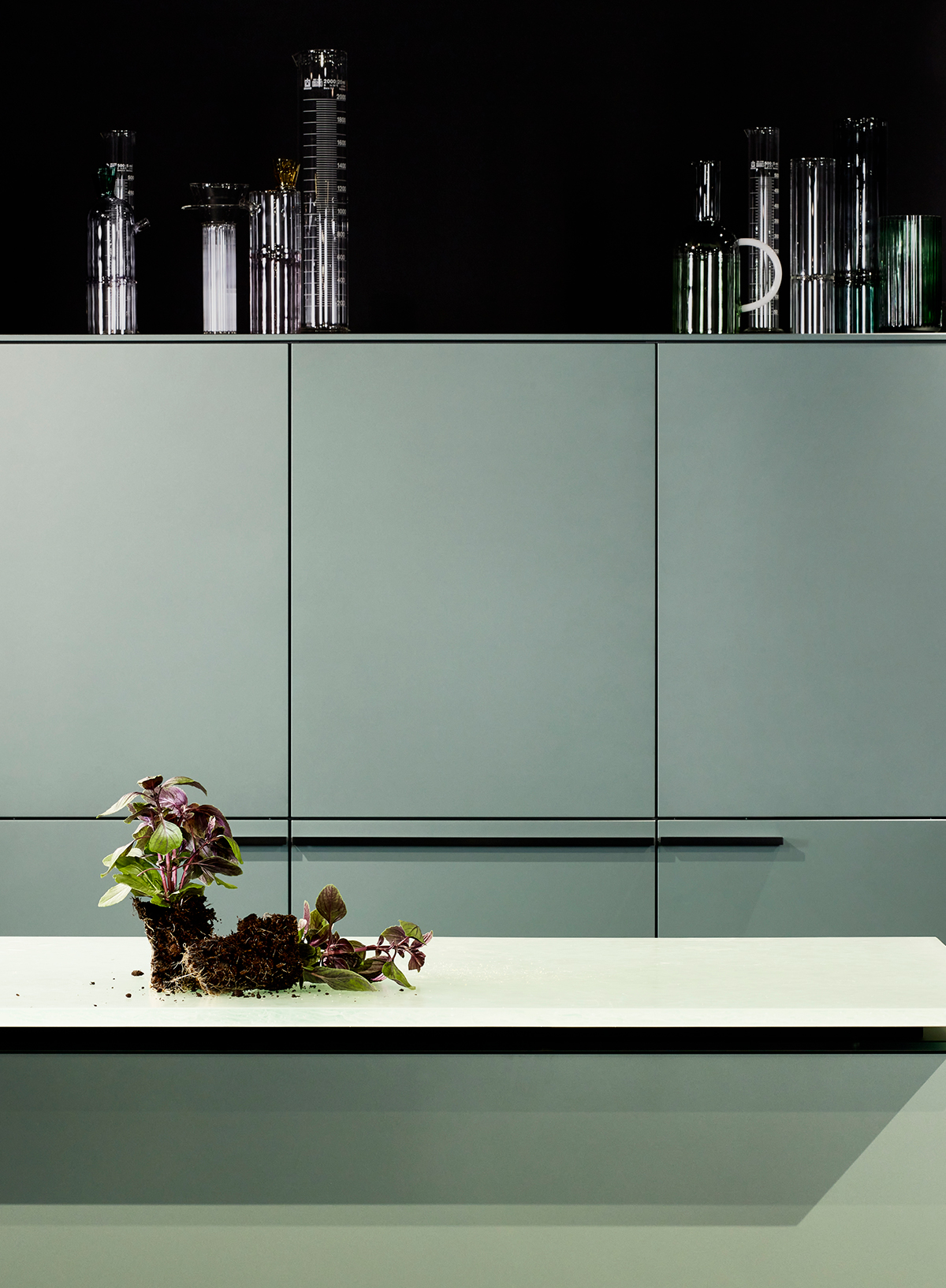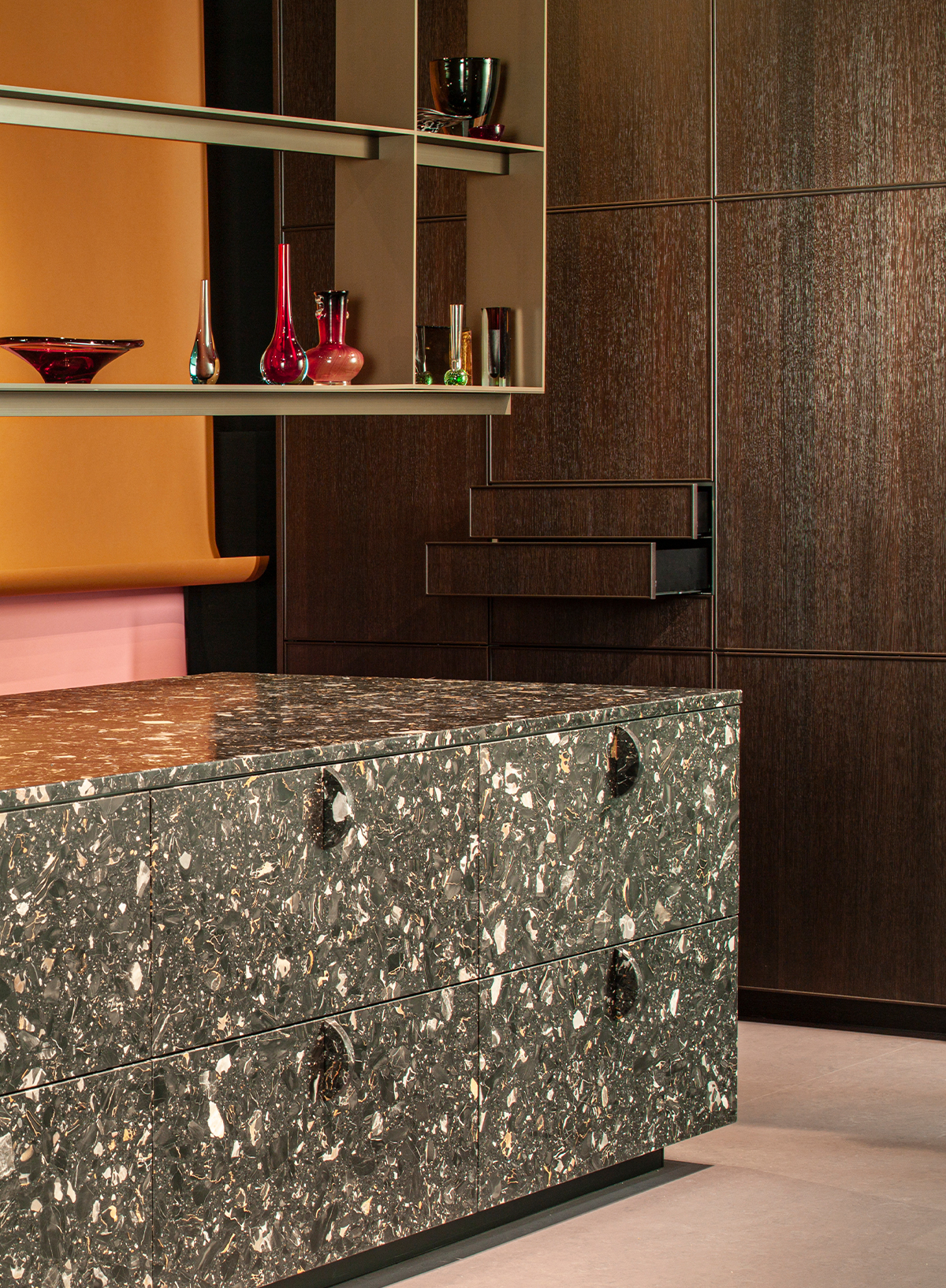 Palazzo Souvenirs
In recollection of days in the warm south, taking in the beauty of Venetian palazzi harbouring bold greatness. The kitchen island in Nero Portoro extends monolithically into the space, freeing the terrazzo from its classic role as a floor covering. The stone slabs are elaborately folded around the cabinetry by hand. Their gleam complementing the silky shining cabinet fronts in smoked oak.
Variations on White
Without fantasy, white is a standard in the kitchen. For Poggenpohl, white is a matter of opulence. The monochromatic surface becomes a visual and textural expedition. In the +SEGMENTO kitchen island, the freshness exuded by the hues of white meets the precision of the stainless-steel panel and the Contour 3.5 metal profile.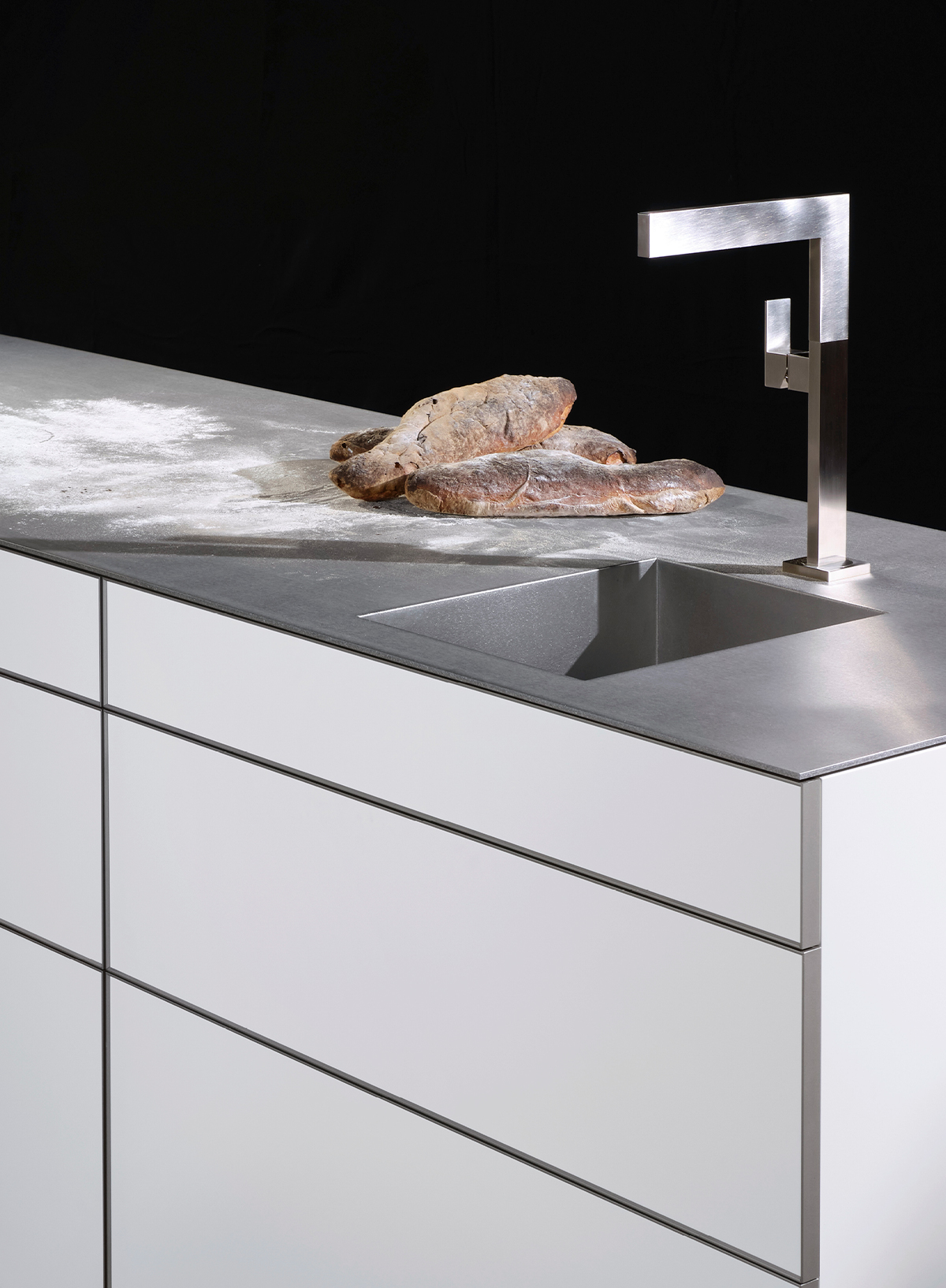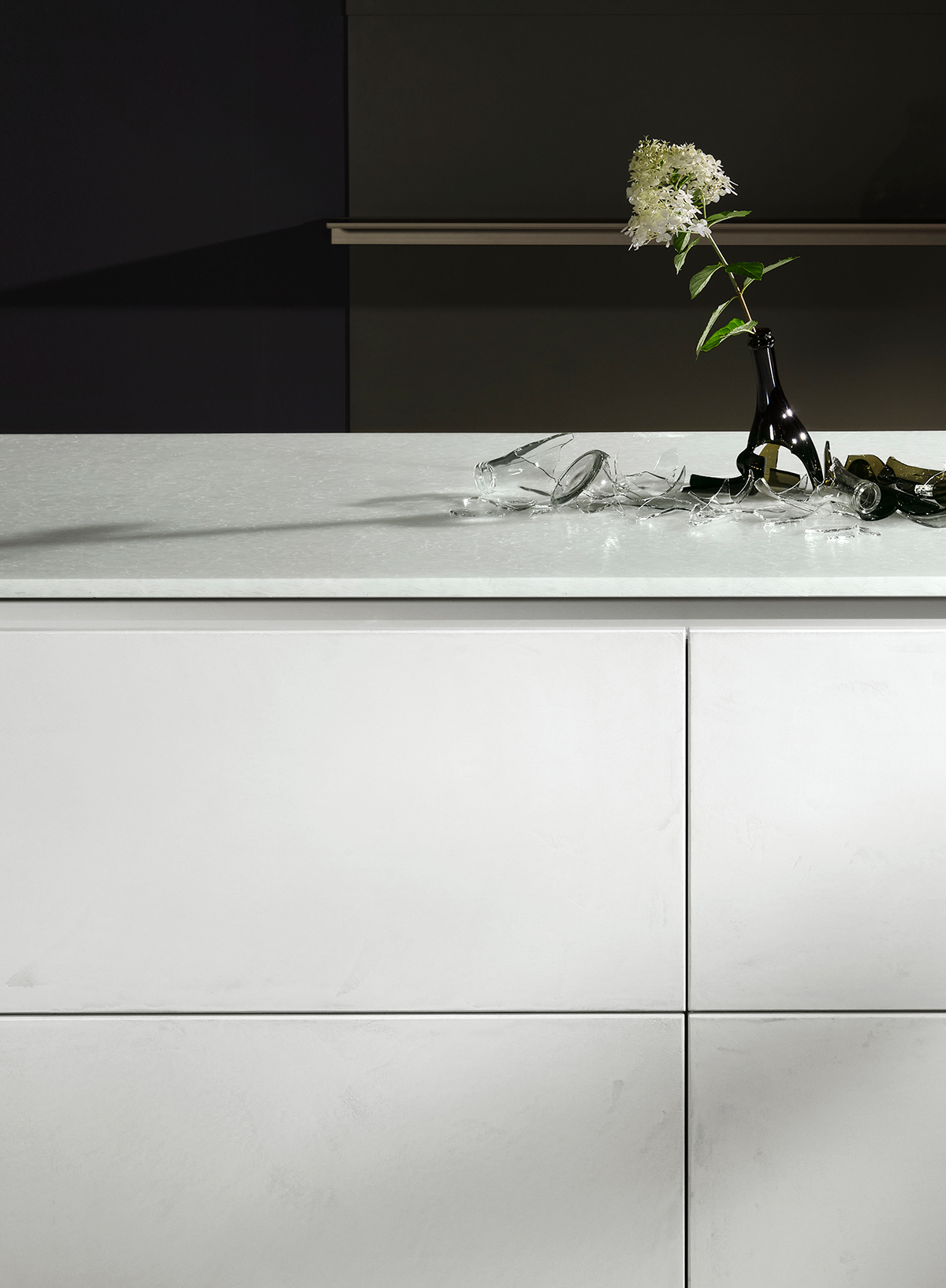 With a singular appearance and sustainable technology, the worktop made of white glass ceramic is reminiscent of layered ice floating in the Arctic Ocean. Granulated shards are fused into a crystalline-looking structure with a unique texture. The +SEGMENTO base cabinets attract attention with a delicate mother-of-pearl shimmer. The fronts from Poggenpohl's Stucco series are impressive hand-crafted gems.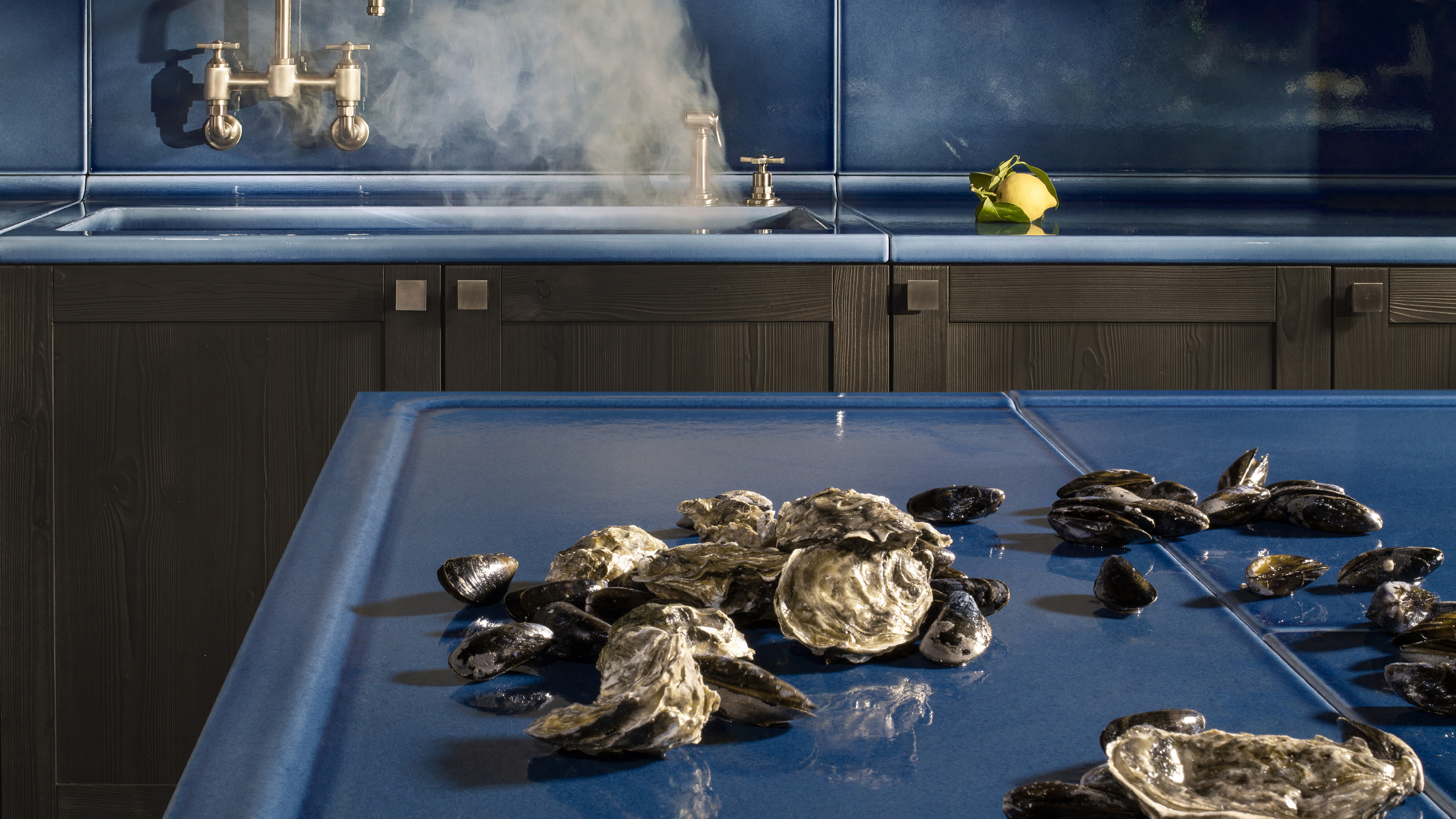 Collector's Delight
The mystical power of that which is hidden from view is irresistibly attractive. Like a glass treasure chest, the new Showcase series offers a protected space for special objects. Little collections and beloved everyday things find their exposed place behind the glass door with subdued LED lighting.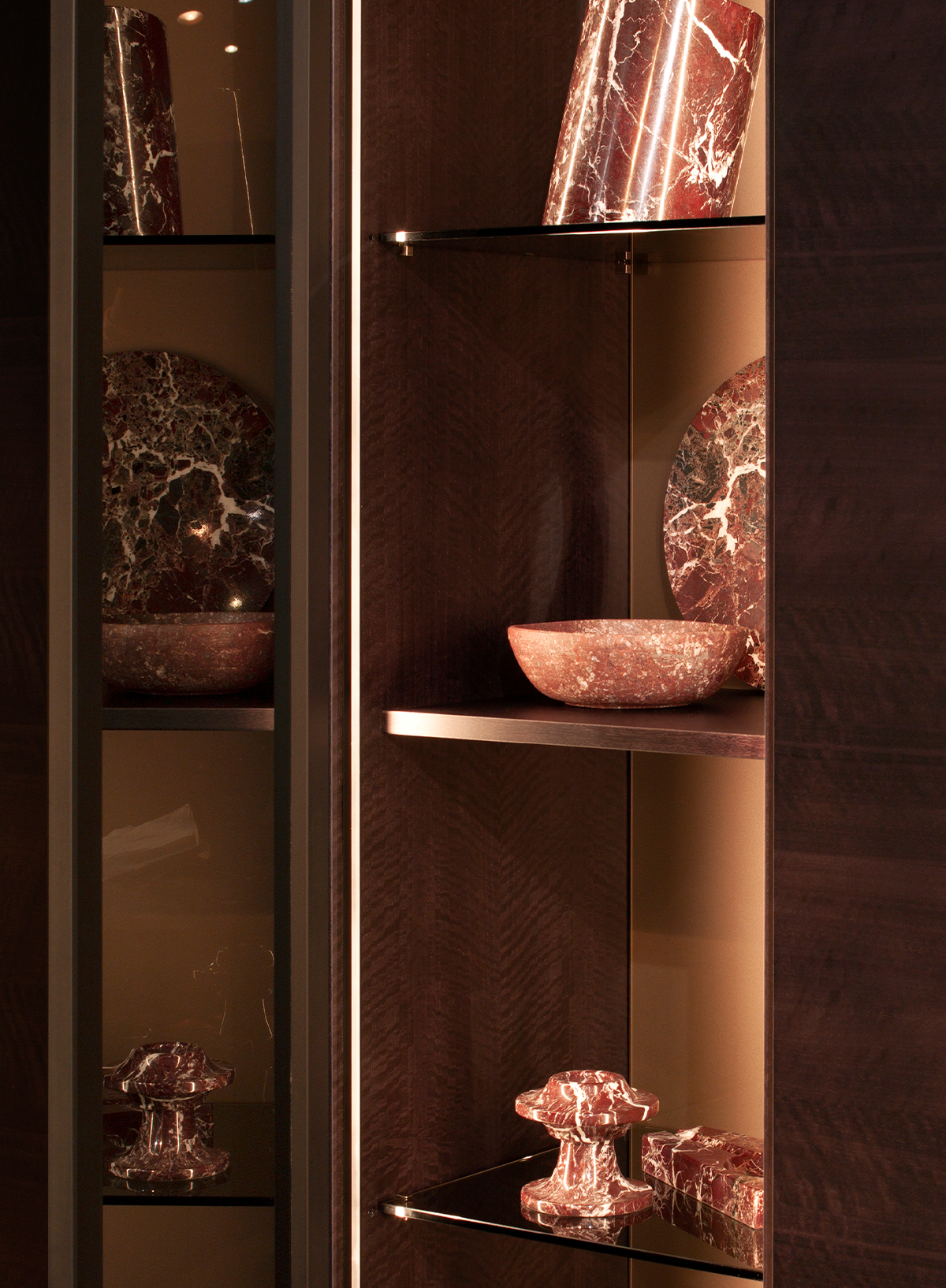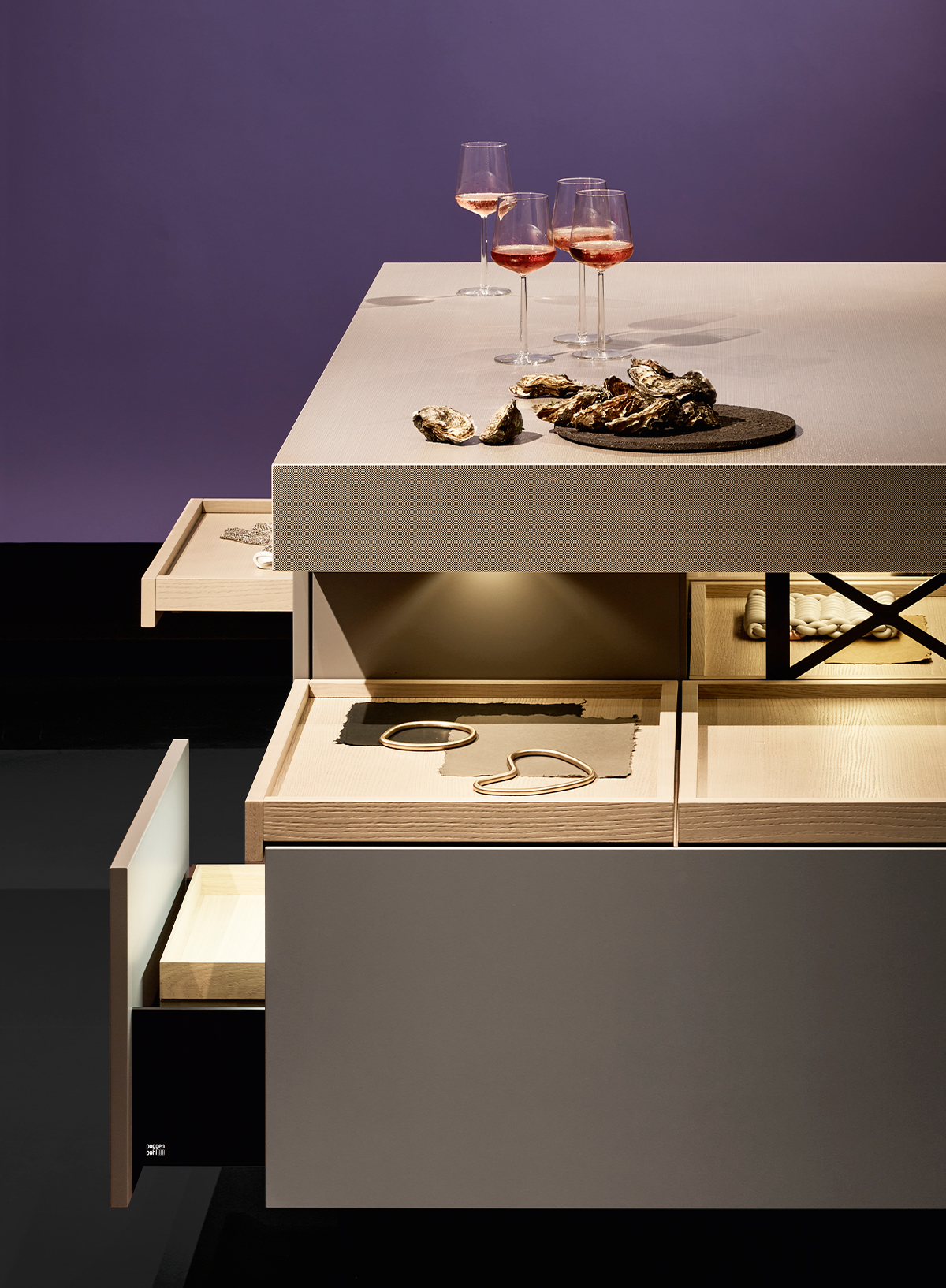 City Jewels
Limited space provides the imagination with a particular challenge. +MODO appears as a gem in its compact staging. A Poggenpohl jewel, the worktop fascinates the observer with its refined texture and golden shimmer. Elegantly lit from below, it rests on base cabinets with shelves of soft-grey stained ash veneer.
Hovering Lines
Order is a question of interpretation. To Poggenpohl, order is structured lightness. Introduction of free lines turns a rigid structure into an open system. The custom-made Array 170 shelving series knows no spatial restrictions and shines as a top element, classically mounted on the wall or towering high.