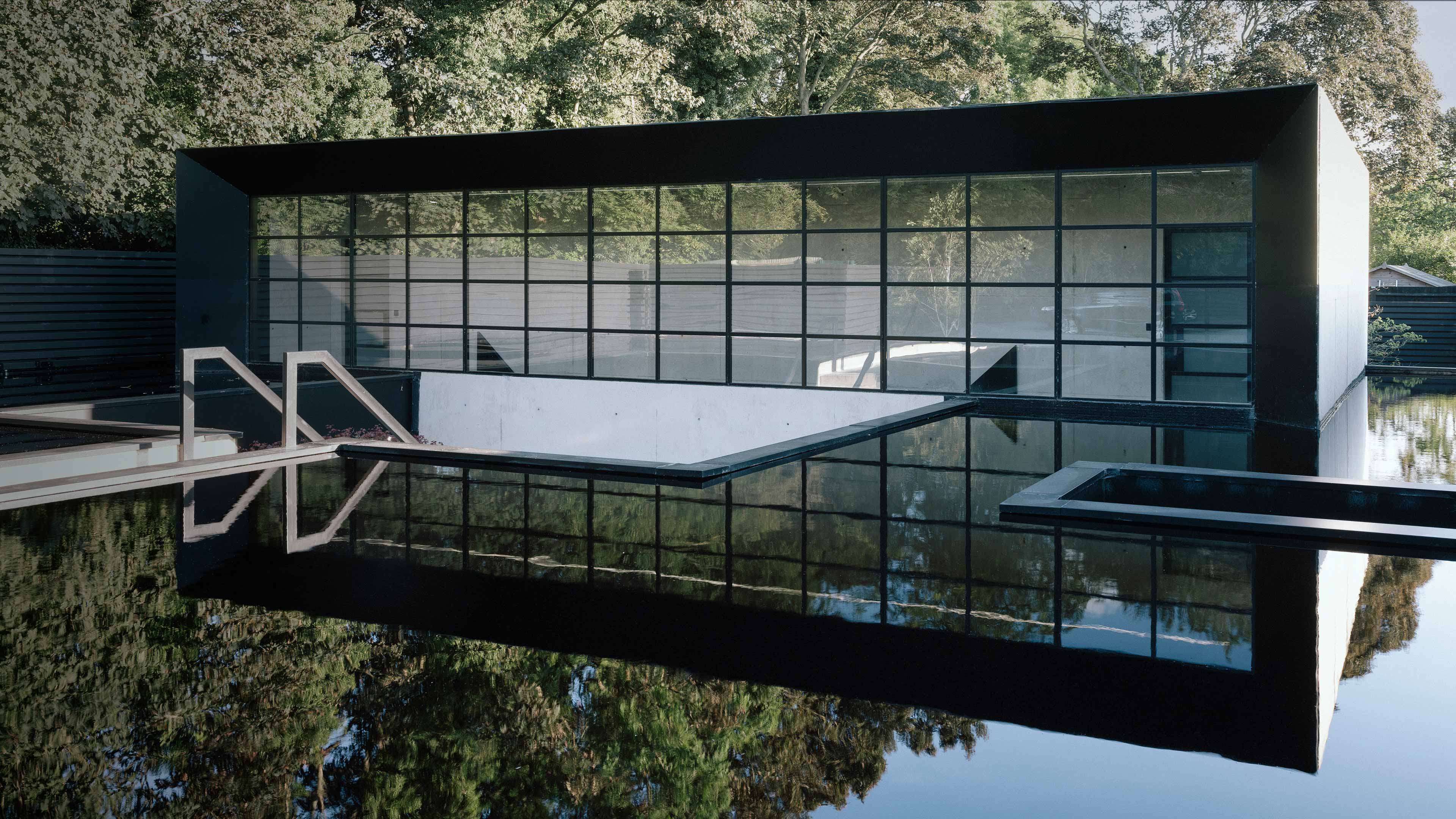 REFERENCE
At the center of pure aesthetics
Architecture that plays with perception and sensuality. Materials that emphasise the valuable in the simple. And a kitchen by Poggenpohl that impressively repeats the graphic lines of the house in its monumentality.
Warwickshire, a county in central England. You would hardly expect to find avant-garde architecture in the rolling hills around the village of Moreton Paddox. Half hidden in the terrain, a lover of Japanese-inspired architecture has fulfilled his personal dream of living there.
Seen from the street, the building looks as if it has sunk into the ground, the reflection in the pool in front virtuously hints at the larger volume. Only concrete, steel and glass are used as visible building materials. At the client's request, BNP Architects have unmistakably drawn parallels to the work of Tadao Ando. Pure but skilfully crafted materials are combined with an absolutely reduced, linear geometry of the house and a masterful play with natural light.
At the back, a window front structured with steel bars stretches upwards and offers a view of the two levels of the building. Inside and outside mix, the pointedly greened courtyard becomes an extension of the central interior space, which takes up the entire width of the approximately 465 square metre house.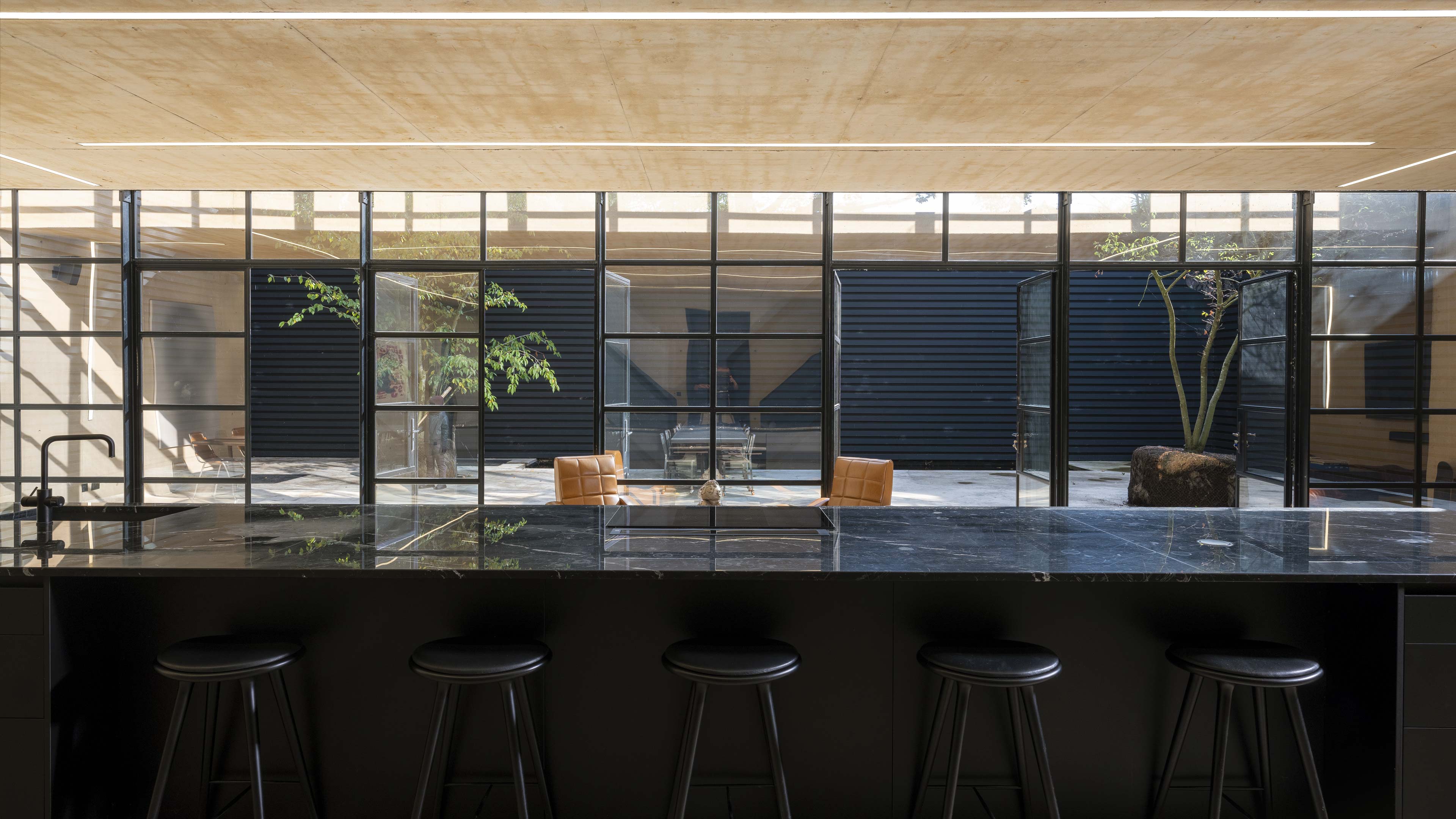 Here there is no separation between living, eating and cooking; the different living areas are laid out fluidly like a continuum. The main element is the monolithic kitchen island by Poggenpohl, which is placed in the centre of the room and becomes the focal point for the residents and guests. The kitchen is at the centre of pure built aesthetics and, with its clarity, takes up the deliberate restraint of the architecture like a quotation.
The expansive block with top and side surfaces in polished Nero Marquina was made to measure by Poggenpohl with precision craftsmanship. At around 7 metres long, the kitchen furniture becomes an architectural, sculptural element. The black of the limestone corresponds with the dark metal glazing bars of the windows, the light veins of the natural stone relate to the play of colours of the omnipresent concrete of the floor, walls and ceiling.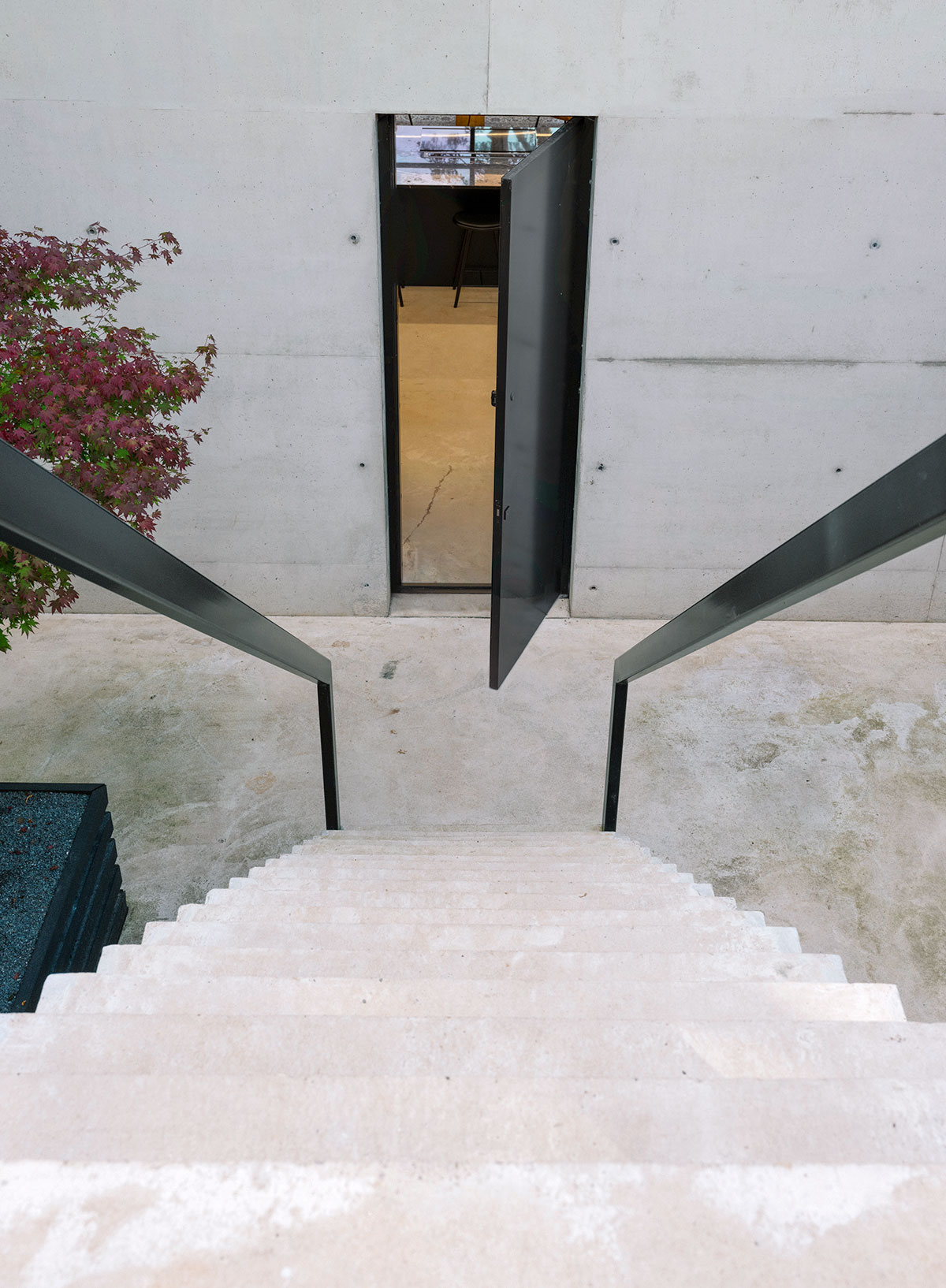 Mysterious entrance. A staircase leads to the lowered level of the living area. The solid steel door leads directly into the central living space.
The shadow play of the sunlight unfolds impressively in the living room. The open room structure and the glass wall allow the areas to merge seamlessly.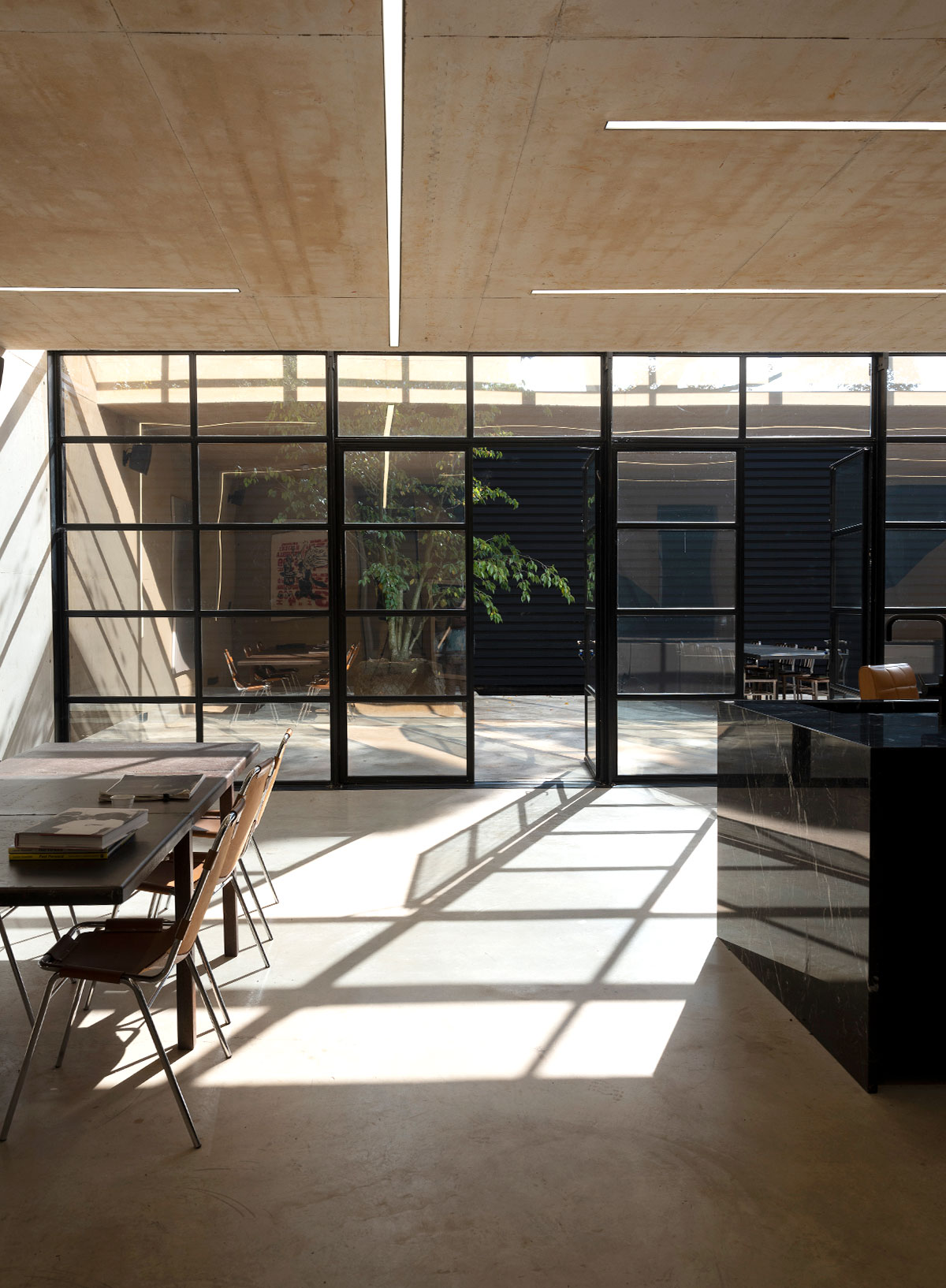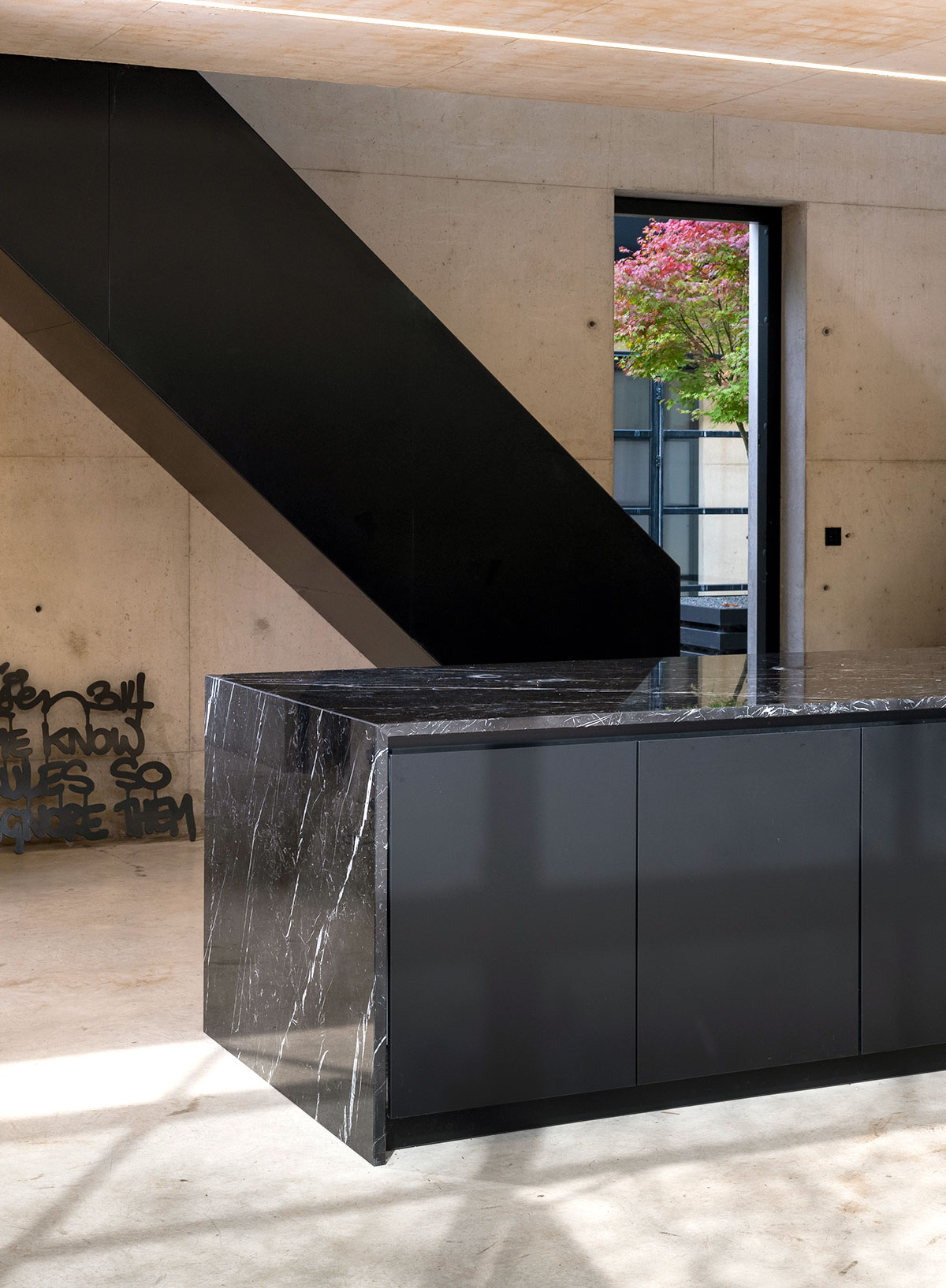 Exciting visual axes connect the living room with the courtyards. The view extends over the kitchen island and the staircase to the front courtyard with flowering plants.
The glass front reveals the structure of the building with its different levels. Large transom doors connect the living and outdoor spaces.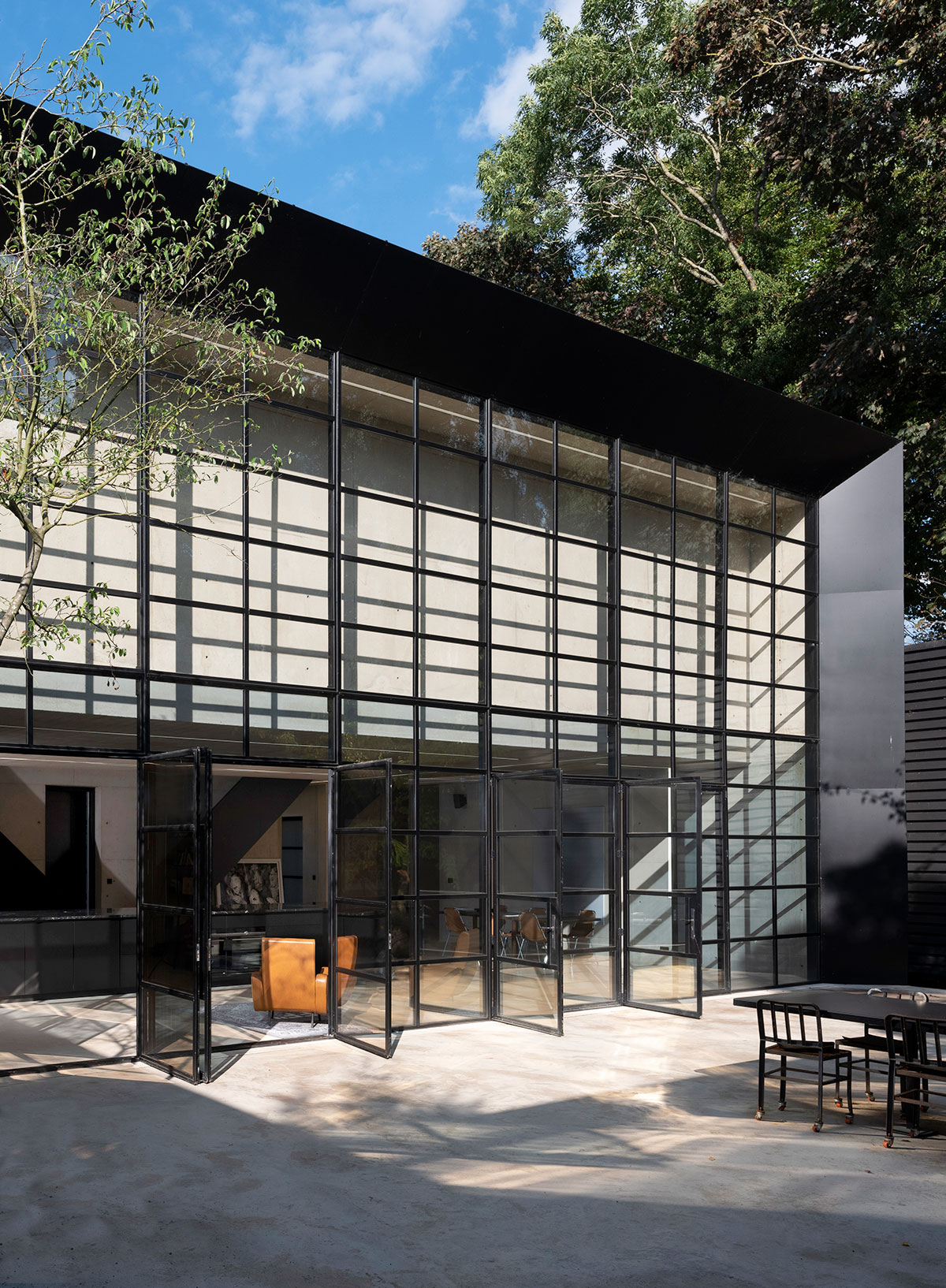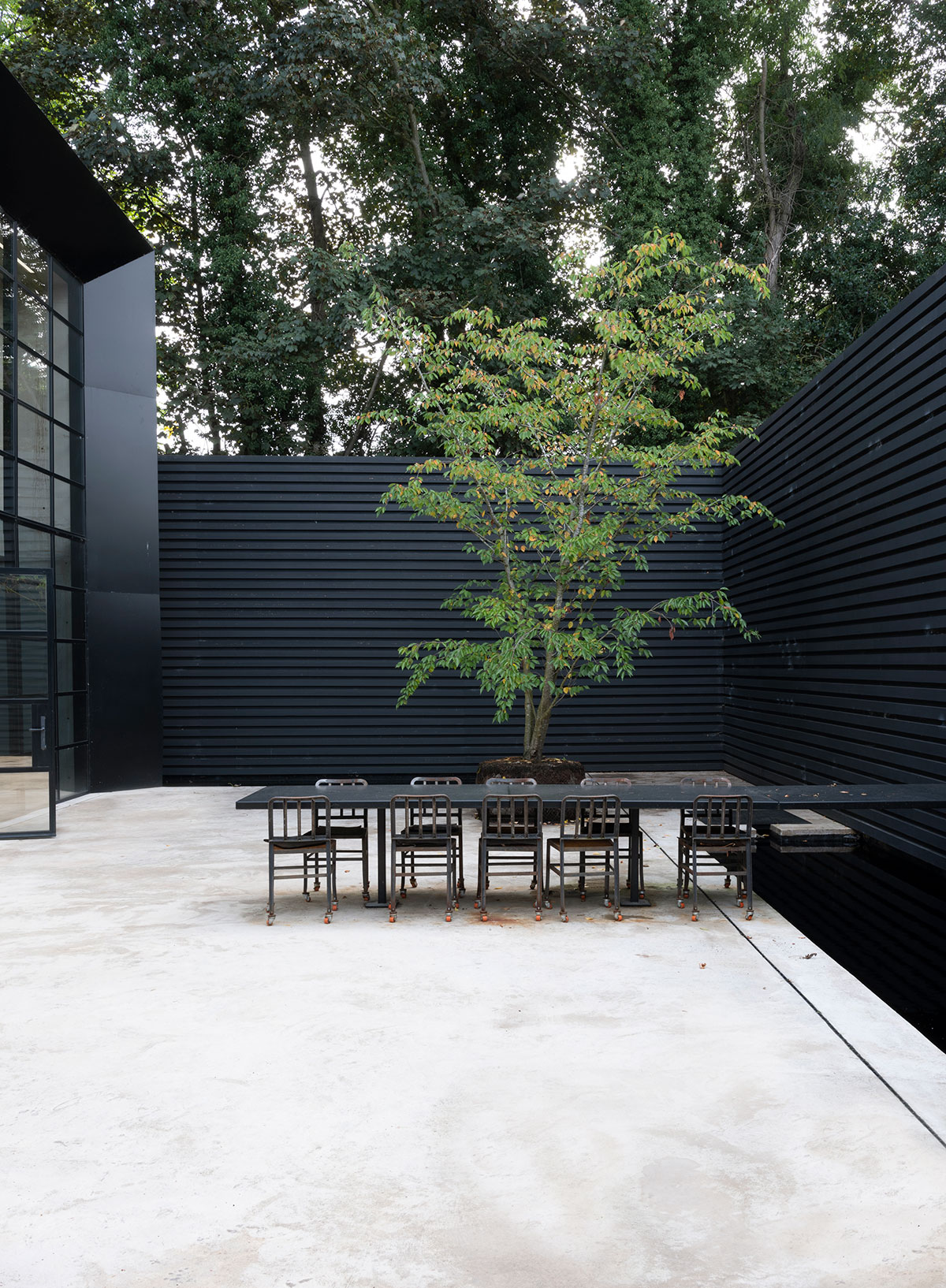 In good weather, life shifts from the kitchen island to the sheltered inner courtyard. The black tabletop forms the centre, the slender trees are placed precisely in the ensemble.